Joined

Mar 28, 2018
Messages

112
Location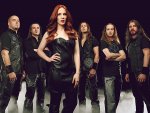 Official website:
http://www.epica.nl/
Current members:
Simone Simons
(lead vocals)
Mark Jansen
(guitar, vocals)
Coen Janssen (synth/keyboard)
Ariën van Weesenbeek
(drums, vocals)
Isaac Delahaye
(guitar)
Rob van der Loo (bass)
Discography:
Epica is a symphonic metal band from the Netherlands. They're one of my favorites. Simone Simons is easily one of the best metal vocalists on the planet, and she's quite easy on the eyes, too. I love her.
They're generally pretty bombastic and have a lot going on in their songs. Simone has a very strong, powerful voice, and Mark Jansen backs her up with death growls. There are heavy, chugging guitars, there's a choir in the background, orchestral elements, etc. They're very good at what they do IMO.
At the moment, my favorite album of theirs is The Quantum Enigma. I haven't listened to The Holographic Principle enough to compare it yet, but it's pretty good as well. I own a few of their other albums, and all of them are pretty solid.
Here's a good track from Design Your Universe.
Here's one of my favorites from Requiem for the Indifferent.
And finally, here's the official live video of my favorite track from The Quantum Enigma.